Mazda Air Conditioning Service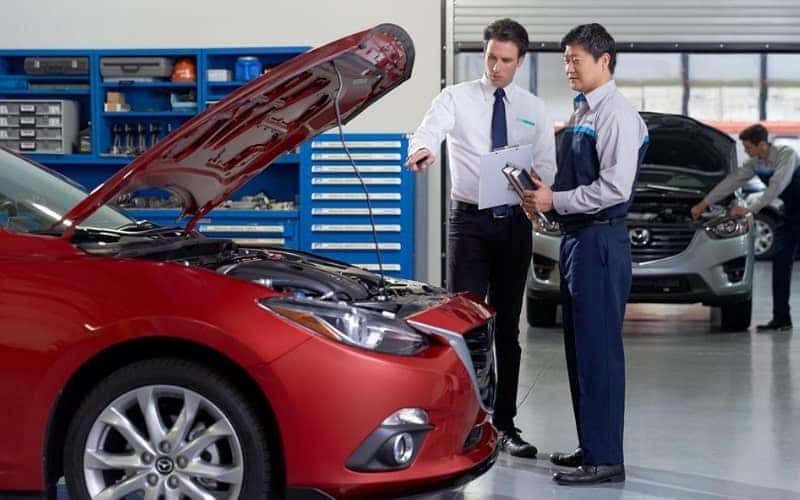 Mazda Air Conditioning Service – Mazda service center St. Louis



We want you to stay cool in the St. Louis hot months. Lou Fusz Mazda offers an Air Conditioning Service near me that meant for your Mazda. Our factory-trained technicians know everything about the air conditioning system in your Mazda and know how to properly maintain it. Have you ever started your air conditioning just to find out that it is blowing out hot air? Have you ever tried to defog your windshield but are unable too? These are signs that you need to bring your Mazda to a Mazda dealership near me. You may need a simple AC recharge or may need to have your cabin air filter replaced. The older your cabin air filter the more likely it is not protecting your Mazda from proper airflow. We can also clean your evaporator at our St. Louis Mazda service center.
What could be wrong with your cars' air conditioning? Let's break that down. There are many reasons why the AC may stop blowing out cold air. Over time you will notice your AC may not be working the way it was when you purchased the car. Everyday driving, jarring effects, and environmental factors can all lead to the deterioration of your Mazda's AC system over time. Ever bumped a curb or hit a large hole in the road? Yep, these too can cause damage to your AC system. St. Louis Mazda car repair at Lou Fusz Mazda can diagnose the problem with your air conditioning system and get you back on the road again. Let Lou Fusz Mazda in St. Louis fix liquid leaks, hose cracks, and fan chips. Our factory-trained experts know exactly what to do to get your system back up in no time. Did you know that your Mazda may only need an AC recharge? Most of the time that is all it takes to receive cool air conditioning again. We have state-of-the-art AC equipment that will remove your old refrigerant and replace it with new and fresh refrigerant. Our technicians know exactly the amount of refrigerant to put in your Mazda. By doing your service with factory-trained technicians you can rest assured your Mazda is being serviced properly. At a Mazda dealer near me, schedule a service appointment at Lou Fusz Mazda.
Benefits of routine AC maintenance:

Removes airborne contaminants.
Ensures optimal performance.
Prevents larger repair of your AC system.
Crucial to properly defrosting/defogging your windows.
Finds leaks before they become problematic.
Ensures proper refrigerant levels in your Mazda.
Keeps your AC running like new.