Mazda Batteries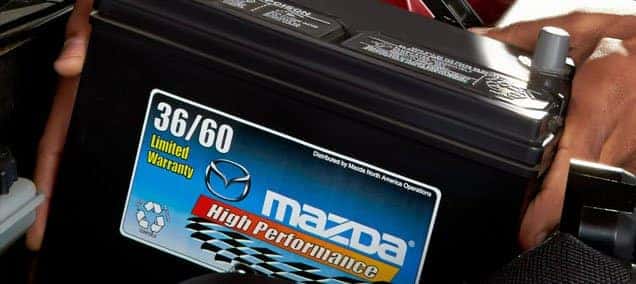 Mazda Battery Replacement Service – Mazda service center St. Louis



Battery replacement service at Lou Fusz Mazda is performed by factory-trained technicians at our Mazda car repair St. Louis facility. By replacing your vehicle's battery with a Mazda battery, you will receive powerful cold-cranking amps each time you start your car. You can have peace of mind knowing your Mazda is being handled with care by Mazda factory-trained technicians. Mazda uses corrosion-free batteries that are reliable and are designed for your vehicle. It is important to have your Mazda's battery checked at each oil change to ensure you are not left stranded. Putting off having your car's battery replaced can lead to your vehicle not starting on a cold winter morning as you head to work in St. Louis. Don't be caught off guard! St. Louis Mazda car repair at Lou Fusz Mazda can get you in and out quickly and back on the road today.
Car batteries are an important part of your vehicle's electrical system. Car batteries can last anywhere between 2 and 5 years depending on the type of battery you purchase for your vehicle. There are multiple factors that go into how long your battery will last. One of the reasons a battery will not last as long is engine heat. On a hot day, your battery is performing at a higher level in order to supply power to all your vehicles systems. The hotter it is outside the more likely it that the battery's fluid will evaporate and causes internal damage to the battery. We find that if you live in a warmer climate your battery will not last as long. At Lou Fusz Mazda, our factory-trained technicians will inspect your battery and will let you know if it needs to be replaced. When you need Mazda service look no further than Lou Fusz Mazda in St. Louis. Mazda dealership near me.
Signs your battery is dying:

The check engine light is on.
The battery connectors are corroded.
The engine is slow to start.
You can smell something rotten.
The lights are dim or you are experiencing electrical issues.
Your battery is old.
The battery case is bulging.
Your vehicle is backfiring.
Engine wont start after sitting overnight.
Car wont start unless you give it gas.